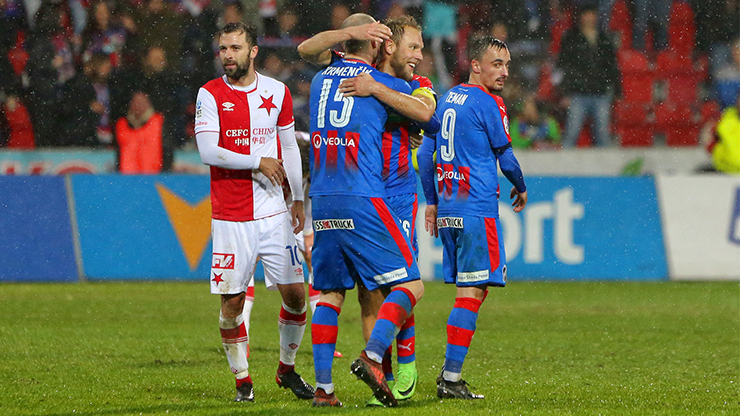 The 13th won match in a row, Viktoria beat Slavia 1-0
​On Sunday 5th November Viktoria the Doosan Arena hosted a hit of the league round. Viktoria, who were sitting first, welcomed Slavia Praha, the second league of the league. Matúš Kozáčik returned in the line-up as well as Daniel Kolář.
On 3 minutes the home team appeared in the first chance of the match but Kopic failed in passing to Petržela who finally did not reach the ball. On 13 minutes the referee had to interrupt the match because of the smother that was floating from the home fans´ sector. The game started 2 minutes later again. On 22 minutes Michael Krmenčík jumped on a corner ball but he waved only the net of the gate. 5 minutes later Jugas made troubles to his own goalkeeper but running Krmenčík could not change the score against Jan Laštůvka. On 36 minutes Daniel Kolář had an effort on goal but his attempt missed the target. In the added time Krmenčík headed the ball against the gate again but did not change the score.
The first chance of the 2nd half was shot by Milan Škoda who lacked a shooting accuracy. On 53 minutes Viktoria had a bigger chance when Řezník crossed the ball to Krmenčík´s head but he missed. On 62 minutes Martin Zeman joined the team on the pitch instead of Milan Petržela. The new man immediately performed his abilities. On the right side he stole the ball to Sobola and then run towards the gate but the goalkeeper was ready there. On 71 minutes Kolář shot on goal but finally missed. Viktoria´s pressure became stronger and 3 minutes later Kopic had an effort on goal, too. On 79 minutes Daniel Kolář finally opened the score by a shot from a long distance – 1-0 for Plzeň! On 84 minutes the coach Vrba made the second substitution. Tomáš Hořava was replaced by Diego Živulič. Soon after that Michael Krmenčík was replaced by Jakub Řezníček. Slavia had more of the game in the last moments of the match but Viktoria secured their leading and won. It was their 13th victory in a row in the domestic league, Slavia jumped down at the 2nd place.
FC Viktoria Plzeň - SK Slavia Praha 1:0 (0:0)
Goal: 79. Kolář, YC: Hájek – Bořil, van Buren, Referees: Příhoda – Nádvorník, Paták. Crowd: 11640.
13th round, Sun 5th Nov 2017, 18:00, Doosan Arena
Plzeň: Kozáčik – Řezník, Hejda, Hájek, Limberský – Hořava (84. Živulič), Hrošovský – Petržela (62. Zeman), Kolář (C), Kopic – Krmenčík (88. Řezníček).
Slavia: Laštůvka – Bořil, Jugas, Deli, Sobol – Ngadeu-Ngadjui, Rotaň (71. Stoch) – van Buren (80. Necid), Hušbauer, Zmrhal (60. Sýkora) – Škoda (C).
Fotogalerie
Related articles