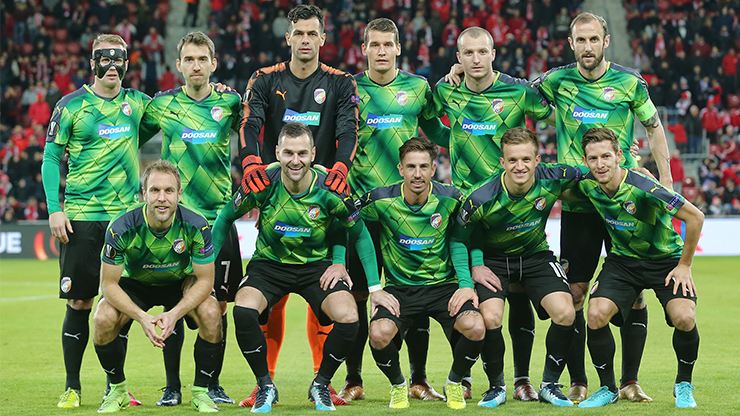 Viktoria beat Hapoel Beer-Sheva and won the group stage!
Viktoria Plzeň are the one and only Czech participant of the spring part in the Europa League. On Thursday 7th December they played the last group-stage match against Hapoel Beer-Sheva. Viktoria travelled to Israeli to the Turner Stadium and they were welcomed by a roaring atmosphere.
Viktoria rushed on the well-prepared pitch and on 3 minutes Radim Řezník run along the right side-line and passed the ball to Michael Krmenčík. He did not push it behind Haim´s back. On 18 minutes Krmenčík appeared in another goal chance but was stopped by the goalkeeper in time. 1 minute later Michael Krmenčík run in the 18-yard box but failed in scoring for the third time. On 25 minutes three Viktorians run to a fast break against only two defenders. However, Petržela did not succeed in the shooting phase. On 29 minutes Lukáš Hejda received the ball after a corner and had enough time to change the score - 1-0 for Plzeň! On 35 minutes Hruška destroyed Isaac Cuency´s attempt on goal. The former Barcelona player had one more chance until the end of the 1st half but he shot only on the goalkeeper. The half-time score was 0-1.
On 53 Viktoria opened the 2nd half by a promising situation. A free kick from the edge of the 18-yard box was caught by the goalkeeper Haimov and Petržela´s rebound was blocked by the defenders. Soon after that the coach Vrba substituted Milan Petržela by Václav Pilař. In the 2nd half the referee Stavrev gave quite a lot of cards, such as to the home players Eibinder, Broun, Tah and Hruška, Krmenčík and Limberský from Viktoria. On 77 minutes Daniel Kolář was replaced by Aleš Čermák who was immediately shown a yellow card. On 83 minutes Radim Řezník passed the ball to Tomáš Hořava who increased the score to 2-0! Marek Bakoš came to taste the atmosphere of the match and Michael Krmenčík.
Viktoria Plzeň beat Hapoel Beer-Sheva 2-0 and with regard to the result of the match FCSB vs. Lugano Viktoria won the group of the Europa League!
Hapoel Beer-Sheva - FC Viktoria Plzeň 0:2 (0:1)
6th round, Thu 7th Dec 2017, 21:05, Turner Stadium
Beer-Sheva: Haimov – Elo, Taha, Elhamed, Korhut – Radi (C), Broun, Einbinder (58. Melikson) – Ohana, Cuenca (67. Zrihan) – Pekhart.
Plzeň: Hruška – Řezník, Hejda, Hubník (C), Limberský – Hořava, Hrošovský – Petržela (58. Pilař), Kolář (77. Čermák), Kopic – Krmenčík (89. Bakoš).
Goals: 28. Hejda, 83. Hořava, YC: Einbinder, Broun, Taha – Hruška, Krmenčík, Limberský, Čermák, Referees: Stavrev – Kirovski, Kostadinov (all MKD).
Crowd: 10542.
Fotogalerie
Related articles