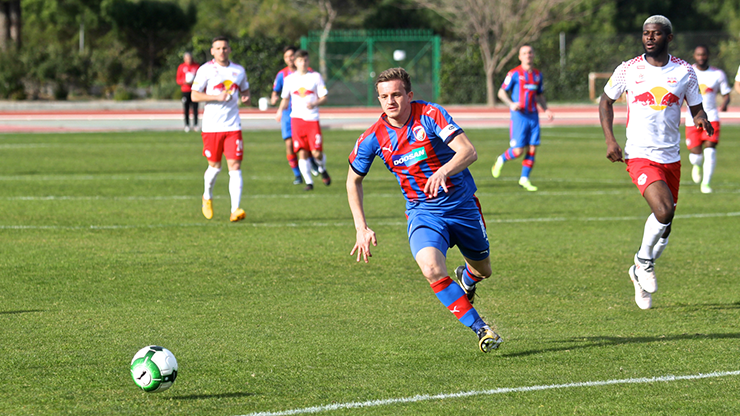 ​Viktoria lost the 2nd friendly match in Spain to Salzburg 0-5
Viktoria failed in the second friendly match within the Spanish trainings to Austrian team Red Bull Salzburg 0-5.
The match´s start was careful on both sides. Both teams tried to possess the ball and hardly got in chances. The first promising chance was on Salzburg´s side and they soon got in leading. Takumi Minamino shot from the edge of the 18-yard box and although Viktorians tried to stop his attempt it was rebounded by Roman Schmid and Salzburg scored. Plzeň combined well but could not get in scoring. On 43 minutes it changed when Jan Kopic passed the ball to Aleš Čermák who missed the target. Takumi Minamino increased the score to 2-0 by a shot near a right upright, which was the half-time result.
Viktoria did not enter the 2nd half very well. On 49 minutes Salzburg combined on the right side and Munas Dabbur scored. 7 minutes later the situation was even worse when Hee Chan Hwang added another goal. The last goal of the Austrian team was scored 10 minutes later by Amada Haidar. Viktoria failed in the second friendly match in Spain and lost to Red Bull Slazburg 5-0.
FC Viktoria Plzeň - Red Bull Salzburg 0:5 (0:2)
Midseason trainings, Sat 20th Jan 2018, 16:00, Burgos Quintana Stadium, Coín
Plzeň: 1st half-time: Kozáčik – Řezník, Hubník (C), Piroch, Limberský – Hrošovský, Čermák – Kopic, Kolář, Zeman – Chorý. 2nd half-time: Kozáčik – Havel, Živulič, Hájek, Kovařík – Hořava, Ivanschitz – Petržela, Bakoš, Pilař – Krmenčík.
Salzburg: 1st half-time: Coronel – Dembele, Ramalho, Onguene, Ulmer (C) – Leitgeb – Yabo, Berisha – Schmid – Minamino, Gulbrandsen. 2nd half-time: Coronel – Lainer, Meisl, Caleta-Car, Farkas – Samassekou – Haidara, Mwepu – Schlager – Dabbur, Hwang.
Goals: 25. Schmid, 44. Minamino, 49. Dabbur, 56. Hwang, 66. Haidara.
Fotogalerie
More articles from this category Aktuální zprávy