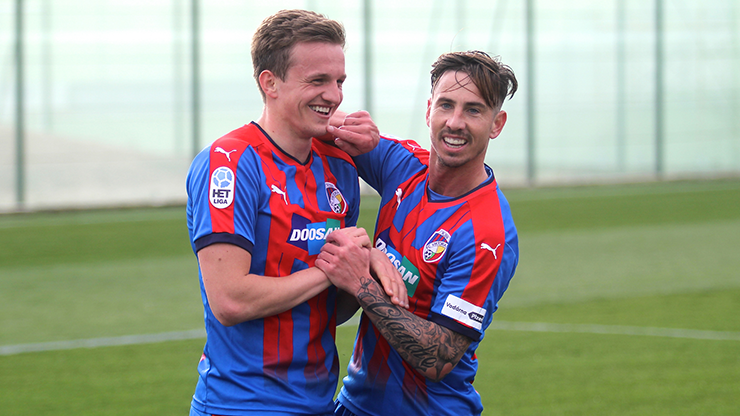 ​Great opening of the 2nd training week: Viktoria beat Legia Warsaw
Viktoria Plzeň played the first friendly match of the midseason training week in Benidorm. They faced the Polish champion Legia Warsaw and after a well-done performance they won 5-1.
Viktoria were dangerous since the very first minute when they attacked by fast breaks. Jan Kopic missed the target and soon after that Petržela´s shot was blocked by the defence. Immediately after this situation Viktorians succeeded in scoring. On 16 minutes Michael Krmenčík passed the ball to Jan Kopic who scored and 1 minute later Krmenčík scored himself. On 30 minutes of the game Krmenčík could add another goal again but the goalkeeper Cierzniak saved his attempt. O 33 minutes Plzeň played 3v1. Petržela shot on goal and the goalkeeper rebounded it to Krmenčík who quickly scored to 3-0.
Viktoria made a substitution of 4 players after the break – the goalkeeper Hruška, together with Čermák, Chorý and Hájek went on the pitch. 10 minutes later Jan Kopic had an effort on goal but the goalkeeper Arkadiusz Malarz stopped him. On 62 minutes Legia reduced the score when Kasper Hämäläinen shot towards Hruška. Tomáš Chorý returned the 3-goals leading to Viktoria so the score was 4-1. Viktorians made 4 more substitutions after this goal and Havel, Kovařík, Zeman and Ivanschitz participated in the game. On 80 minutes Michał Kucharczyk appeared in a very promising chance but Aleš Hruška destroyed his effort by a perfect save. 6 minutes later Marek Bakoš added the last goal of the match.
FC Viktoria Plzeň - Legia Warsaw 5:1 (3:0)
Midseason, Thu 1st Feb 2018, 16:00, Villaitana Football Center, Benidorm
Plzeň: Kozáčik (46. Hruška) – Řezník (66. Havel), Hejda (46. Hájek), Hubník (C), Limberský (66. Kovařík) – Hrošovský (79. Bakoš), Hořava (66. Ivanschitz) – Petržela, Kolář (46. Čermák), Kopic (66. Zeman) – Krmenčík (46. Chorý).
Legia: Cierzniak (46. Malarz) – Jędrzejczyk (C), Astiz (66. Pasquato), Pazdan, Hloušek – Mączyński, Remy, Antolić – Szymański (71. Kucharczyk), Niezgoda (46. Eduardo), Hämäläinen.
Goals: 16. Kopic, 17. Krmenčík, 33. Krmenčík, 65. Chorý, 86. Bakoš – 62. Hämäläinen.
Fotogalerie
Related articles