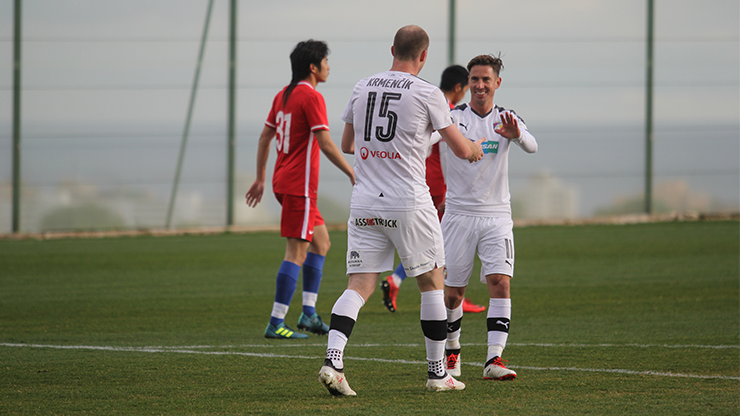 Viktoria beat Guizhou Hengfeng Football Club in the last friendly match
Viktoria played the last friendly match in Benidorm. They faced the Chinese team Guizhou Hengfeng and finally won the match 2-1 by goals of Krmenčík and Čermák.
The Chinese team were the first one to threaten the goal and Aleš Hruška was very busy from the first minute when he rebounded off Chery´s and Zhengyu´s attempts. On 8 minutes Viktorians got in leading after Milan Petržela´s pass to Michael Krmenčík who scored. The match did not offer many goal chances after that and the fights appeared rather in the midfield. Viktoria had a good attempt a while before the end of the 1st half when Jan Kopic prolonged the ball to David Limberský and Michael Krmenčík who finally headed the ball off the goal. The half-time result was 1-0.
At the beginning of the 2nd half Tomáš Hájek substituted Lukáš Hejda. Viktoria soon scored their second goal, however, Milan Petržela could not celebrate long because he shot from off-side position. On the other side the joy burst out when Tjaronn Chery equalized the score to 1-1. Several minutes later Milan Petržela could increase the score but was stopped by the goalkeeper. On 68 minutes Aleš Čermák sent Viktoria in leading 2-1! There happened one unpleasant moment until the end of the match when Chorý was knocked out by on of the opponent players so he had to be substituted. That was it and Plzeň won their last friendly match 2-1.
FC Viktoria Plzeň - Guizhou Hengfeng 2:1 (1:0)
Midseason, Wed 7.2.2018, 16:20, Villaitana Football Center, Benidorm
Goals: 8. Krmenčík, 68. Čermák – 51. Chery.
Plzeň: Hruška – Řezník (72. Havel), Hejda (46. Hájek), Hubník (C), Limberský (72. Kovařík) – Hrošovský, Hořava (72. Ivanschitz) – Petržela, Kolář (61. Čermák), Kopic (61. Zeman) – Krmenčík (61. Chorý, 82. Bakoš).
Guizhou Hengfeng Football Club: Sipeng – Ting (61. Li), Longchang (61. Xin), Hao (46. Xueming), Hejng (61. Jelavič) – Yunlong (C) (75. Kaimu), Fang (46. Zhi), Chery, Mengqi (61. Liang), Lminjan (76. Yingjian) – Zhengyu (46. Ailong).
Fotogalerie
Related articles