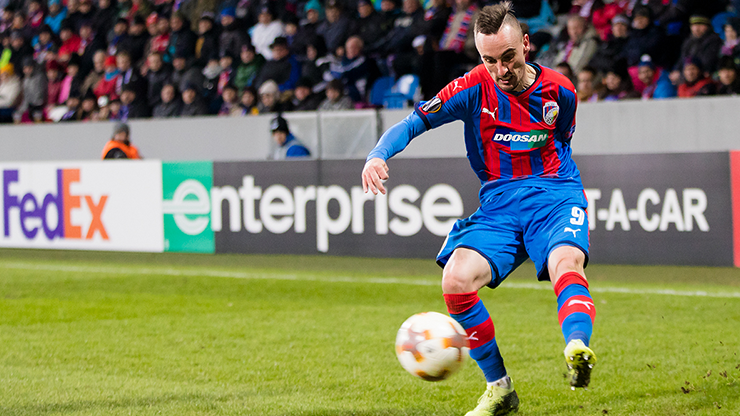 ​Viktoria beat Partizan and go on to the Europa League round of 16
Viktoria repeated their European maximum on Thursday 22nd February at 7 p.m. when they beat FK Partizan Belgrade. The Serbian team appeared in this phase of the league after 12 years.
Krmenčík and Kolář combined well right at the beginning and prepared an opening chance of the match to Tomáš Hořava. However, the goalkeeper Stojković was ready. On the other side Hruška was busy on 22 minutes when Pantič had an effort on goal from the midfield. 3 minutes later Daniel Kolář failed in his scoring chance. Hubník returned back the long ball from a corner and Kolář missed the target. Viktoria were the more active team in the 1st half and Partizan lacked an accuracy. In spite of all the effort the half-time score was 0-0.
After the break the home team poduced a big chance. Martin Zeman passed the ball from the left side to Daniel Kolář and Radim Řezník. The latter one hit the ball but send it only close to the gate. On 67 minutes Plzeň finally scored the first goal of the match. Lukáš Hejda crossed the ball behind the defence to Michael Krmenčík who excellently scored to a back upright – 1-0 for Plzeň! At the moment Partizan had to score to goals in order to go on to the round fo 16. On 71 minutes Pavel Vrba made the first substitution – Martin Zeman went out and Milan Petržela went in. Ožegović tried to response to Viktoria´s goal but his header found only Hruška´s hands. Also Soumah shot off the goal moments later. On 84 minutes Krmenčík was substituted by another forward Tomáš Chorý. 2 minutes later Aleš Čermák substituted Daniel Kolář. Partizan had no other choice than to be very active at the end of the match. The goalkeeper Stojkovič helped the team but unfrotunately headed the ball right to Petržela in the midfield. He quickly passed the ball to Aleš Čermák who scored to an empty gate – 2-0!
Viktoria performed great and deserved to win after the matches´ results 1-1 and 2-0. They advanded to the round of 16 of the Europa League for the third time in the club history!
FC Viktoria Plzeň - FK Partizan 2:0 (0:0)
R32, Thu 22nd Feb 2018, 19:00, Doosan Arena
Plzeň: Hruška – Řezník, Hejda, Hubník (C), Limberský – Hořava, Hrošovský – Kopic, Kolář (87. Čermák), Zeman (72. Petržela) – Krmenčík (84. Chorý).
Partizan: Stojković – Vulićević, Miletić, Ostojić, Urošević – Jevtović (65. Ožegović), Zdjelar – Janković (78. Soumah), Pantić, Tošić – Tawamba.
Goals: 67. Krmenčík, 90+4. Čermák, YC: Pantić, Tošić, Referees: Kehlet – Hummelgaard, Sørensen (all Denmark).
Crowd: 10185.
Fotogalerie
Related articles