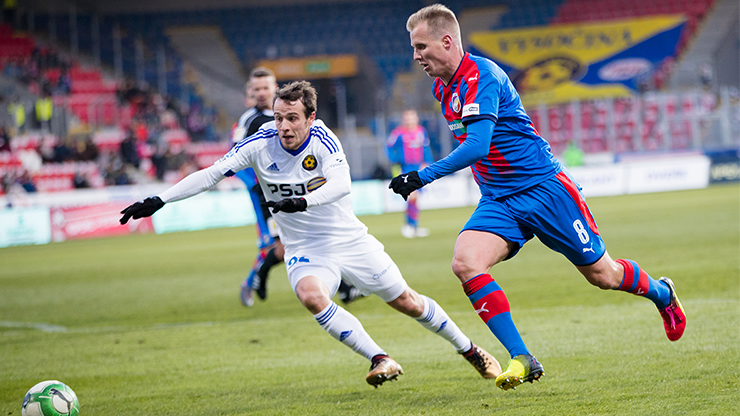 ​The match in Jihlava: Temperature deeply below zero and the first Viktoria´s loss
Viktoria Plzeň welcomed Vysočina Jihlava on a freezy evening. The coach Vrba sent Aleš Čermák on the pitch and he also could not use Kolář, Chorý and Bakoš.
Right at the beginning David Ikaunieks endangered Viktoria´s gate. Both teams warmed up during the first minutes but Jihlava were more successful in that when on 22 minutes they scored a goal. Kozáčik was overcome by Petr Tlustý – 0-1. On 29 minutes Krmenčík and Čermák performed a great action but the latter one missed the target. Moments later Michael Krmenčík shot only to the goalkeeper Rakovan. Krmenčík had one more chance until the end of the half-time but the opponent from Jihlava were more happy before the break.
At the beginning of the 2nd half Viktoria settled in front of the penalty area of their opponent. However, Krmenčík failed in scoring in his two attempts. On 64 minutes Ivanschitz and Petržela substituted Čermák and Zeman. 3 minutes later Kopic missed the gate. Plzeň tried hard to change their pressure into a goal on 78 when Hrošovský shot but Rakovan saved his attempt. On 84 minutes Vrba substituted Hořava for Jan Kovařík. Viktoria put their opponent under pressure for the whole 2nd half but none of the players having effort on goal were successful until the end of the match so Viktoria have lost their first match in the current season.
FC Viktoria Plzeň - FC Vysočina Jihlava 0:1 (0:1)
18th round, Mon 26th Feb 2018, 17:00, Doosan Arena
Plzeň: Kozáčik – Řezník, Hejda, Hubník (C), Limberský – Hořava (84. Kovařík), Hrošovský – Kopic, Čermák (63. Ivanschitz), Zeman (63. Petržela) – Krmenčík.
Jihlava: Rakovan – Vaculík (C) (87. Klíma), Tlustý, Buchta, Schumacher – Levin – Fulnek (70. Holík), Dvořák, Urblík, Zoubele (76. Nový) – Ikaunieks.
Goal: 22. Tlustý, YC: Limberský, Zeman, Hrošovský, Řezník – Levin, Ikaunieks, Referees: Orel – Pelikán, Koval.
Crowd: 4138.
Fotogalerie
Related articles