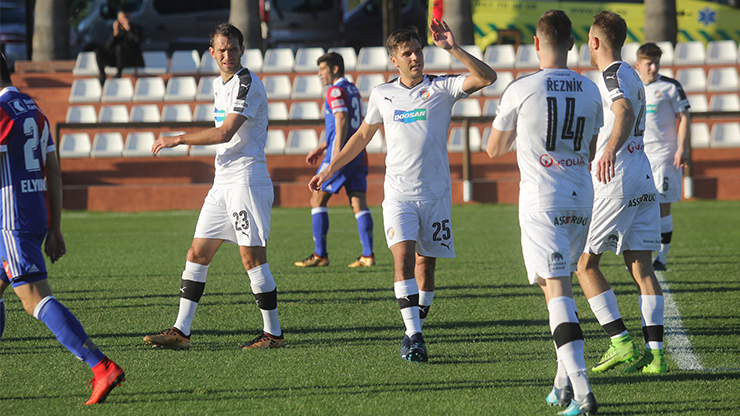 Highly-valued scalp of the Champions League quarterfinalist, Viktoria Plzeň beat FC Basel
Viktoria Plzeň travelled to Spanish Marbelle to continue in their midseason trainings. They won a hard match against FC Basel, a participant of the Champions League play-off. Marek Bakoš and Aleš Čermák scored two goals and the result was 2-1.
Viktoria Plzeň entered the match more actively. On 2 minutes Milan Havel missed the goal from a very promising position and moments later Andreas Ivanschitz hit a defender on the goal line. On the contrary, Basil scored from the first chance when on 17 minutes van Wolfswinkel passed the ball to Kevin Bua from the left side 0-1. Michael Krmenčík tried to equalize the score after that but the goalkeeper succeeded against him. On 34 minutes Milan Petržela had an effort on goal but the goalkeeper Salvi saved his attempt again. Later Patrik Hrošovský took a free kick, nevertheless, he failed and Salvi caught it again. At the end of the 1st half Aleš Hruška excelled against a tough shot of Xhaka.
The coach Pavel Vrba changed the line-up for the 2nd half. The goalkeeper Hruška stayed on the pitch but the rest of the team totally changed. After a foul on Václav Pilař Viktoria took a penalty kick, which was taken by Marek Bakoš – 1-1. On 56 minutes Plzeň got in lead! Aleš Čermák kicked a low shot after a combination and scored – 2-1. Jan Kopic could add the third goal of Viktoria ut he hit only a defender. On the other side Viktoria´s goalkeeper Aleš Hruška was very busy against the attempts of Oberline and Serey Die.
None of the teams added any goal and Viktoria beat FC Basel!
FC Viktoria Plzeň - FC Basel 2:1 (0:1)
Midseason trainings, Wed 17th Jan 2018, 16:00, Marbella Football Center
Plzeň: 1st half-time: Hruška – Havel, Piroch, Hájek, Limberský – Petržela, Hrošovský, Ivanschitz, Zeman – Chorý, Krmenčík.
2nd half-time: Hruška – Řezník, Hubník, Živulič, Kovařík – Hořava, Čermák – Kopic, Kolář, Pilař – Bakoš.
Basilej: 1st half-time: Salvi – Lang, Kaiser, Suchý (C), Riveros – Xhaka, Frei – Bua, Stocker – van Wolfswinkel, Ajeti.
2nd half-time: Salvi (71. Chande) – Callà (74. Liechti), Lokaj, Balanta, Petretta – Campo, Serey Die, Elyounoussi – Pululu, Oberlin, Okafor.
Goals: 48. Bakoš (PK), 56. Čermák – 17. Bua, Referees: Juan Gabriel Gallegos Giménez.
Crowd: 50.
Fotogalerie
More articles from this category Aktuální zprávy