Viktoria in short
For more than a century the football club FC Viktoria Plzeň has honored the region of West Bohemia and its main city of Pilsen. The inaugural meeting of the club took place on 11 June 1911 and in that same year Viktoria played its first match against Olympia Plzeň in red jerseys and dark blue shorts. Red and blue are the colors of the club and they remain so today on our uniforms. In 2011 we celebrated our centenary, and thanks to this, we can proudly call ourselves one of the oldest clubs in the Czech Republic.
During the years, Viktoria has competed, for example, against the famous Juventus, welcomed Brazil's Flamengo, and in 1971 went up against the stars of Bayern Munich in the UEFA Cup Winners' Cup. Viktorians have revisited this glorious history in recent years when the club was firmly established among the elite of Czech football. First, in 2010, they won the Czech Cup and qualified for the first time in its modern history for European club competitions. The most famous era of Viktoria began in 2011, when the club, in its centennial year, triumphed in the top premier domestic competition. Since then, Pilseners have five times took home the Czech championship title, three times advanced sensationally to the UEFA Champions League, and even took part in UEFA Europa League competitions many times.
The historical summary should not forget the important figures in Czech football who rose up through the ranks with Viktoria Plzeň. It's enough just to name a member of the Club of League Strikers Stanislav Štrunc, the legendary František Plass, winner of the Golden Ball (award for best footballer in the world in 2003) Pavel Nedvěd, and the former captain of the Czech national team keeper Petr Čech.
FC Viktoria Plzeň a.s.
Štruncovy sady 3
301 12 Plzeň
GPS: 49°45'0.063"N, 13°23'7.541"E
Fax: +420 377 221 543
+420 377 221 507, 515
fcviktoria@fcviktoria.cz
---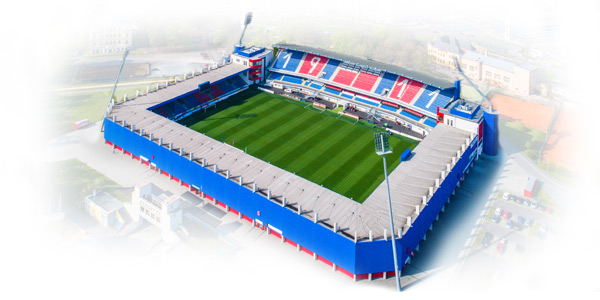 Webpage: www.fcviktoria.cz
E-mail: fcviktoria@fcviktoria.cz
Club colors: red, blue
Colors of home set (kit, shorts, socks): red-blue, red, bluered
Colors of away set: white, white, white
Colors of third set: black, green, green
Brand: Macron
B team (competition): Česká fotbalová liga (3rd tier)
Number of youth teams: 14
Women team (competition): 1. liga žen
Stadium: Doosan Arena
Owner: Plzeň, statutární město
Capacity: 11 700
Pitch dimensions: 105 x 68 m
Club found in: 1911
---
Fanshop
Main contact: Magdaléna Reiserová
+420 734 878 230
fanshop@fcviktoria.cz
eshop.fcviktoria.cz
Opening hours:
Mon–Fri: 9–17
Weekend: Only on matchdays (6 hours before the kick-off)