Famous names
Vladimír Bína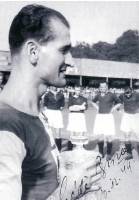 Vladimír belonged to the generation of football players who brought fame to Viktoria especially between the wars. He was born in 1909 and started to play football in the north of the Czech Republic. He came to Pilsen in the autumn of 1932 as a 23-years-old man, and stayed there until 1947 for 15 years.
He became a part of the team with Jabornický and Žaloudek as goal keepers and the other players were Protiva, Šimek, Přibáň, Fábera, Bešťák, Mizera, Kuželík, Názler, Bína, Čulík, Hess, Rajniš and Vlček. Vladimír Bína played a great game in the position of an attacker. This player was self-sacrificing and liked to play with the joy of the game, coupled with the great art of football techniques and his sense of quick decisions made him one of the biggest players of Viktoria. He was the back bone of the team.
He played 261 matches in the colours of Viktoria in the 1st League and scored 38 goals. This football player also played for the national Czechoslovakian team in 1933 against Austria (3:3) and was also a part of the team which played the Middle-European Cup against Juventus in 1933.
After the war he moved to Litvínov where he died at the age of 79.
Vladimír Perk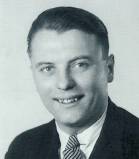 With 130 goals he is a member of the Club of League Greats. He was born in 1920 and came to Luční Street from SK Karlov, aged 19 in 1939. He immediately became a part of the big aces of Viktoria. Bína, Bešťák, Moravec, Vlček, Tajčner and Dědič accepted him and adored his ability of scoring. There was hardly any match without Perk scoring! Three or maybe four goals per match as in Zlín, this was not any surprise of Perk.
During the occupation he represented the Czech nation and in one match against Morava he scored four times. Immediately after the war he put on the Czechoslovakian sporting kit in Paris. He travelled around the whole of Europe with Viktoria and played 201 matches in the highest league with this team.
When he finished being an active football player in 1954 he started to be a football coach. He led teams such as Škoda "A" and "B", Karlov, RH Plzeň and Bolevec.
He died in 1998 at the age of 87.
Stanislav Štrunc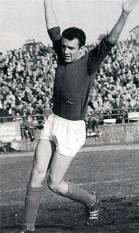 Another member of the Club of League Greats with one hundered goals was born in 1942, and he tried to play football when he was 13 years old in Spartak Plzeň. At first he was placed between the posts; however thanks to his speed and impetuousness, he quite soon became an attacking winger. He also played for Spartak Skvrňany for a while, but because he scored a lot he soon came back to Spartak Plzeň where his great career started.
He scored in the highest league for the first time in Žilina in 1961. In 1965 he left for Dukla Praha where he shot 65 goals in the 1st League. Stanislav Štrunc was a member of the national Czechoslovakian team three times, of the Olympic team six times and of the junior team six times as well. He played against Brazil and coupled with another football player from Pilsen named Miloš Herbst who was also in the Olympic Games in Mexico of 1968.
He came back to Pilsen in 1972 and scored again. Finally, against Inter Bratislava in 1977, it was his anniversary 100th goal. He completed a total of 329 matches in the 1st League. After that he finished in Viktoria but still played in some lower leagues – in Kaznějov as a playing coach and in Pilsen for the team called Potraviny, today's Sparta Plzeň.
He passed away too soon in 2001 as a 59 years-old legend.
František Plass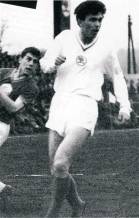 One of the best football players in Czechoslovakia during the 1960´s and 1970´s was born in 1944 and he came to Spartak Plzeň from ČSAD at the age of 19. Later he was called Pilsner Beckenbauer thanks to his ability to completely control the ball, great football technique and sense for the combination and perfect thinking during the game.
He played 11 official international matches for Czechoslovakia, also a lot of matches for the Olympic and junior teams. As a universal football player he tried to function in several positions – namely, centre back, midfield and striker. The most useful job of this player was apparently in a position of a libero, so called "free player".
He the backbone of the team and played 169 1st-league-matches and scored 16 times. He was allured by Sparta, Slavia or Slovan Bratislava but never left Pilsen. His loyalty for this city was exemplary.
After a few years, he left in 1976 as a coach to Cheb coupled with Jiří Lopata and these two names led RH Cheb into the 1st League for the first time in their history. Later he was a trainer for Dukla Praha, Ústí nad Labem, once he nearly moved up to the 1st League with Škoda team and he was also at the origin of a miracle in Blšany.
Zdeněk Michálek

It has been 43 years since he appeared in Štruncovy Sady for the first time. He was born in 1947 and began to play football in Bory at the football pitch of SK Plzeň. He scored for Lokomotiva in the position of left winger since 1955. In 1966 he moved to Škoda Plzeň and straight away in 1967 he helped this team, under the coach Vlastimil Chobota to move up the 1st League.
Later the coach Karel Kolský moved Michálek to full-back. This decision was based on his discipline during the game, ability and intelligence. Rudolf Vytlačil, a famous coach chose Michálek to become part of the national team of the Czech Lion, which was an unofficial representation of the Czech and Morava. He played in Chile, Peru, Columbia and Uruguay.
A serious injury finished his career as an active football player in 1976. He started to function in the position of a trainer's assistant; he also was a secretary and later started to be a coach as well. He was a leader of a junior team, functioned also in Příbram, Rakovník, Rokycany or German Regen, with which he had a big success. The most important thing is, of course, that he always returned to Pilsen and helped Viktoria to move up to the 1st League several times, which is very unique! Moreover, he contributed to the final position of 5th place for this new up and coming team in this league.
He belongs to the biggest fixed stars in the history of Viktoria. He enlisted to the annals as its excellent and maximum trusted player (142 starts in the 1st League and 18 goals) and a brilliant trainer of high quality as well.
Josef Čaloun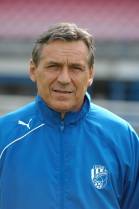 In 2009 he crowned his 30-years service working for Viktoria. He was a goalkeeper for 14 years and later became a coach for the next 16 years. It is not only Čaloun, who stayed in the memories of the football public. There were two of his relatives before him, who trained as well – namely, his cousin František with his son Michal. Čaloun was born on 18th June 1946 and started to play football in Zliv in the south of Bohemia. He went through Dynamo České Budějovice, Dukla Tábor and Pardubice in order to get to Škoda Plzeň in the summer of 1970.
He experienced all ups and downs with this team. It happened twice that he dropped down to the 2nd League; however, he was a member of the team which he continuously played in the highest League from 1972 to 1980 where his number of starts was 261 as a goalkeeper and he contributed also in the matches against Bayern Munich. In 1977 he won the trophy for the best goalkeeper of the league and despite Sparta allured him to play there, he continued in Pilsen.
He was also part of the national Olympic team for two years; he though did not go to the Olympics because of unknown reasons and in 1980 lost his chance to win the gold medal. Čaloun significantly helped in the match against Borussia Dortmund. He left Pilsen for Svéradice, which went up from the West League to the 3rd League. As a goalkeepers´ coach he brought up a significant number of big names, such as Havel, Ticháček, son Michal, Hauzr and a lot of others including the present ones.
Jiří Rubáš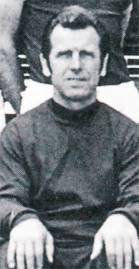 He belongs to the best coaches in the history of the club. He was born in 1922 and as a junior he was placed to a position of a forward in Rokycany. After the transfer to Bohemians he was retrained to the midfield or defender. For the Czechoslovakian national team he participated in 6 matches.
In 1954 he finished being an active player and immediately started to be a trainer in Bohemians. He left for Ostrava after 14 years from where he finally moved to Pilsen in 1970. He stayed here for 5 seasons. He took this new team to the 1st League, with which he dropped down but after only one year they moved up again and Pilsen played in the 1st League continuously until 1980. In 1975 he left for Ostrava and reached the trophy for the winner of the 1st League with Baník Ostrava.
He came back to Pilsen, a 2nd-league team in June 1986 and after two years he significantly helped the team to achieve the 1st League again. His big training advantage was that he was able to create positive and friendly atmosphere in the team, nevertheless, in terms of the discipline he was strict, rigid and uncompromising. He assumed the presumption of success was discipline.
He died as an 83-years-old in 2005.
Jiří Sloup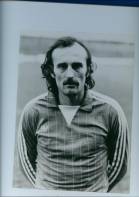 He fits in a heavily branched clan of the Sloups. He was born on 30th April 1953 and first kicked the ball in Sokol Letná where he went from juniors to adults. The year before he joined the army he attempted the division in ČSAD Plzeň. In 1974-76 he played for the military service in Dukla Tábor and in one year he scored 22 goals in the 3rd League. He was later picked to play for Škoda Plzeň by the coach Tomáš Pospíchal. At first he was placed in the position of left winger, later a midfielder and finally a full-back.
He was a very high-powered player, excelled at shooting from the middle and long distance. He scored a lot of goals from 20 or 30 meters. In 1982 he transferred to follow the coach Pospíchal to Bohemians, with whom he gained the trophy of the winner of the Czechoslovakian Championship and also played in the European Cups against famous teams. He came back to Pilsen after three years and significantly helped Škoda. He had in total 231 starts in the 1st League and in spite of being a defender he was still able to score 48 goals. He played 8 matches for the national "A" team and scored once.
He scored against the legendary goalkeeper Dino Zoff at the stadium San Siro in Milan in 1982. The match finished 2:2 draw and Czechoslovakia gained a worthy point during the qualification for the Euro Championship. He left Škoda at the age of 36 and finished his active career after the year when he scored nine times.
Pavel Nedvěd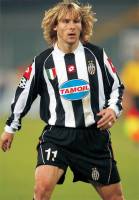 A holder of the Golden Ball Trophy for the Best European Footballer in 2003 made his first steps to big football from Pilsen. He was born in 1972 and first kicked the ball in his hometown of Skalná and then onto Cheb where he played went to Pilsen in 1986. His coach was a legendary man Josef Žaloudek who made the birth of fateful relationship between them and he was also the one who strongly influenced Nedvěd as a player.
He was able to use his left and a right foot as well, also good with his head. He was in a good physical condition and was literally obsessed with football. He started to play in the "A" team in 1990, in 1991 he transferred to Dukla Praha and after that Sparta and the Czech national team were waiting for him. He became world known for the first time in Euro 1996 in England from where he won a silver medal and soon he joined Lazio and then Juventus in 2001.
Nedvěd played in Euro 2000 and 2004 and also in the World Championship in 2006 for the national team. He is also the winner of the Cup Winner´s Cup, a finalist of the Champions League, a finalist of the UEFA Cup and also won the Czech Cup and the Czech 1st League several times.
He played all the trainings and matches to capacity, and his attitude to the game was always at maximum level. He learnt these habits right in Pilsen.
Josef Žaloudek
He belonged to the best junior coaches in the whole country. He brought up a significant number of later big names and he was heavily involved in the professional development of Pavel Nedvěd. He was born on 3rd January 1941 of the football family in Nýřany. His father was a goalkeeper and two older brothers Adolf and Oldřich were referees. He himself was trying to succeed as a player but soon he started his career as a coach. He gained his highest trainers´ education in 1978 and became a leader of the training academy for juniors in Škoda Plzeň.
Žaloudek brought up the under 15 team and won the trophy for the best team in the Czech Republic in 2001. Martin Fillo was one of the players who played for the west Bohemian team. Some of the players who were in his care later started their career as a coach as well, for example Vítězslav Lavička or Jaroslav Šilhavý. A wrongly underestimated football specialist trained as his last stop at 33rd sport basic school of Terezie Brzková in Skvrňany.
He passed away after a hard disease on 3rd August 2003 at the age of 62. A lot of celebrities from the Czech football came to say goodbye to him including Pavel Nedvěd, common fans, coaches, officers and players. There is held a juniors´ memorial trophy every year in honour of Josef Žaloudek and the stadium in 33rd basic school carries his name.
Petr Čech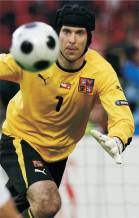 In the football history of the Czech Republic there was no better a goalkeeper than Čech. Since he was 16 he regularly participated in Euro and World Championship at junior categories. Čech is also a winner of Euro U-21 in Switzerland in 2001, participant of Euro 2004 in Portugal, World Championship in Germany in 2006 and Euro 2008 in Switzerland and Austria.
He was born in 1982 in Pilsen. His beginning with football is settled in Viktoria and he stayed there until 1999 when he transferred to Blšany. He appeared in Sparta Praha in 2001 when he already was Czech number one goalkeeper. He was offered to go to French Stade Rennes in 2002 and after two years the famous club Chelsea chose him where he immediately became number one and started to pick up the trophies of the winner of Premier League. He also stars in The Champions League.
This 197 cm tall goalkeeper has got great technique, excellent reflexes and hardly any Achilles´ heel. He appears as a completely calm and concentrated player even in some crucial moments. He is also great in directing the defence of the team.
Not only the Czech Republic, but also Viktoria Plzeň becomes widely known thanks to his achievements. He learnt the alphabet of goalkeepers in this club.