Fans and merchandising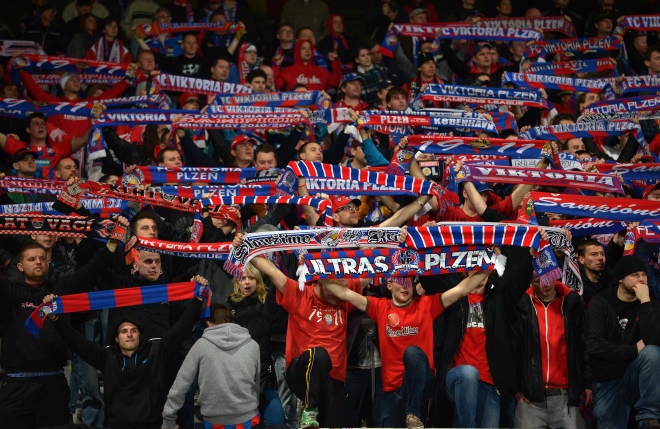 Viktoria Plzeň is not only successful in the area of sports; one of our greatest achievements is the fact that attendance in Doosan Arena, our home stadium, is ever rising. The stands are regularly sold out and the fans show their fierce and relentless support not only during European competitions, but during home league matches as well.
In the last few seasons, the average attendance in Štruncovy sady has surpassed the magical number of ten thousand spectators, which is high above the average in the Czech Republic. Matches in Champions League and Europa League, including preliminary rounds, are always completely sold out. However, our fans are not only passive spectators: they regularly come up with imaginative, witty choreographies and create a fantastic atmosphere for the players. It is no wonder then that Viktoria Plzeň fans have been voted the best supporters in the Czech Republic twice in a row.
Viktoria Plzeň players can rely on their fans not only at home, but also during away matches, including those in European competitions. Over five thousand fans have travelled to Barcelona and Milan to support their club; they also managed to sell out their allocated sectors at Maribor, Gelsenkirchen and Munich.
You could say this is a Viktoria Plzeň fever, and there is no cure for it. That is why we keep expanding our merchandising. Fans can shop for a variety of Viktoria Plzeň related items not only in our fan store directly at the stadium, but also via our e-shop. They can choose from club jerseys, scarves, hats and flags, but also a wide range of books, sports equipment, stationery, ceramic products and clothes. The signature red-and-blue of Viktoria Plzeň does not only fill the stands of Doosan Arena; our fans support the club in their everyday lives as well. The heart of Plzeň beats for football.