Professional football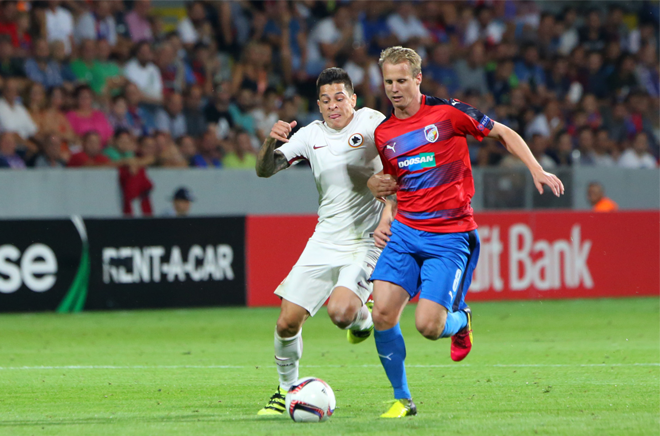 The success of the club can be primarily measured by the success of the men's A team, which is now competing on several fronts. Their victories on the home front have opened the gates for Viktorians to the European football scene. After winning their first title, Pilseners expected a huge challenge, their first ever, in the form of Champions League qualifications. They succeeded to perfection, triumphantly passing all the qualifying rounds to enter the group stage and facing the then best club on the planet, Barcelona. During a memorable match they famously drew with AC Milan and a victory over Belarusian champion Bate Borisov gave them their first taste of matches in the Europa League's knockout stage. In the same competition, they managed to win the group stage the following year when those teams they beat included Champions League finalist Atlético Madrid. In the spring leg, a 5-0 aggregate victory allowed them to eliminate Italian Naples, thus establishing themselves among the top 16 teams of the prestigious competition.
| | |
| --- | --- |
| | |
Their second home title in history and another flawless advance in qualifications without losing a single point again led them to draw for the group stage of the Champions League. Vicktoria drew another giant of the sports world today, FC Bayern Munich. Another huge experience were the duels against the famous Manchester City and a well-done dual-match against CSKA Moskva, which qualified the Viktorians to play matches in the knockout stage of the Europa League for the third time in a row. In the spring of 2014, Viktoria humbled Ukrainian Shakhtar Donetsk and advanced in the round of 16 over the traditional French squad Olympique Lyonnais.
The club's sporting success and unique regional position on the football map has generated enormous interest from the media. The Pilsen team's matches are increasingly chosen for live broadcasts on Czech television stations, the team's celebrities are already traditional guests on radio and television programs, and fans can also find information about the club in respected newspapers and news websites.
Viktoria footballers, moreover, also regularly make up a part of the Czech and Slovak national teams. Just the last couple of years have seen the careers of Petr Jiracek, Vaclav Pilar and Vladimír Darida, to name a few, play out in European competitions.