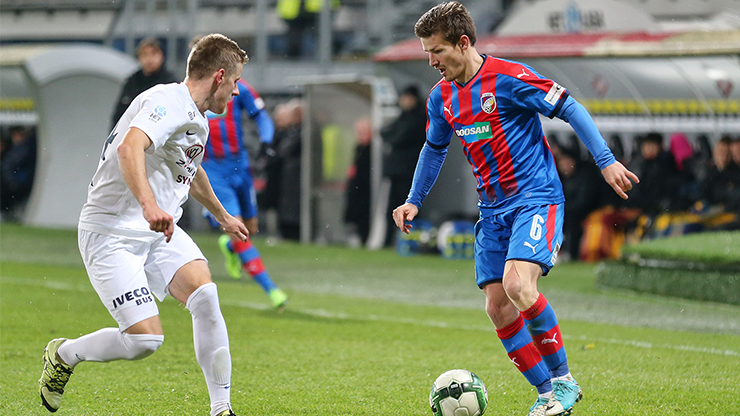 ​Viktoria Plzeň were edged out of the MOL Cup by Slovácko
On Friday 10th November at 6 p.m. Viktoria Plzeň entered the round-of-16 match against Slovácko. The coach Pavel Vrba gave a chance to play to players who do not appear very often in the starting line-up. Moreover, the recovered captain Roman Hubník returned on the pitch.
After not a very striking start of the match Slovácko reminded they want to outsmart Plzeň. After they gained the ball in the midfield Kubala had a chance on goal from the edge of the 18-yard box. Roman Hubník deflected the ball and it flew to the back upright of Hruška´s gate. Plzeň were losing 0-1 since the 19th minute. Pilař and Bakoš had a chance to equalize the score but the striker did not shoot accurately. On 30 minutes Petr sharply headed the ball against Hruška but he was ready. On 37 minutes Viktorians scored a goal. Roman Hubník jumped high and headed the ball towards the gate, it flew through a traffic and finished behind the goal line. The half-time result was 1-1.
The 2nd half was opened by an individual action of Řezníček who run towards the gate but finally hit only the goalkeeper. On 52 minutes Lukáš Hejda had to leave the pitch for a while because of injury. He returned back right at the moment when Aleš Čermák served the ball to Marek Bakoš. He immediately scored – 2-1! Viktoria substituted Diego Živulič for Andreas Ivanschitz. On 64 minutes the guest score their second goal when Sadílek shot from a close distance – 2-2. On 70 minutes the coach Vrba substituted Václav Pilař by Milan Petržela. Plzeň put their opponent under pressure and they tried hard to show they want to go to the next round of the cup. The last substitution meant the end for Marek Bakoš and Daniel Kolář replaced him. On 82 minutes Ivanschitz played a free kick and Kolář had an effort on goal but failed in scoring. On 85 minutes Ivanschitz and Hejda cooperated but the defender hit only an upright. The score was equal 2-2 after 90 minutes so both teams continued playing in extra time.
On 96 minutes Yo had an effort on goal but his sharp shot flew 30 centimetres above the crossbar. His teammate Hofmann was more successful on 110 minutes when he score a decisive goal – 2-3. Plzeň lost to Slovácka and were saw off the MOL Cup.
FC Viktoria Plzeň - 1. FC Slovácko 2:3 (1:1) OT
Round of 16, Fri 10th Nov 2017, 18:00
Plzeň: Hruška – Havel, Hejda, Hubník (C), Kovařík – Zeman, Živulič (54. Ivanschitz), Čermák, Pilař (70. Petržela) – Řezníček, Bakoš (79. Kolář).
Slovácko: Heča – Juroška, Hofmann, Šimko, Reinberk – Šumulikoski (C), Navrátil (120. Tkáč), Petr (104. Hellebrand), Sadílek, Havlík – Kubala (87. Yu).
Goals: 37. Hubník, 54. Bakoš – 19. Kubala, 63. Sadílek, 110. Hofmann, YC: Čermák, Řezníček, Referees: Marek – Blažej, Vlasjuk.
Fotogalerie
Related articles