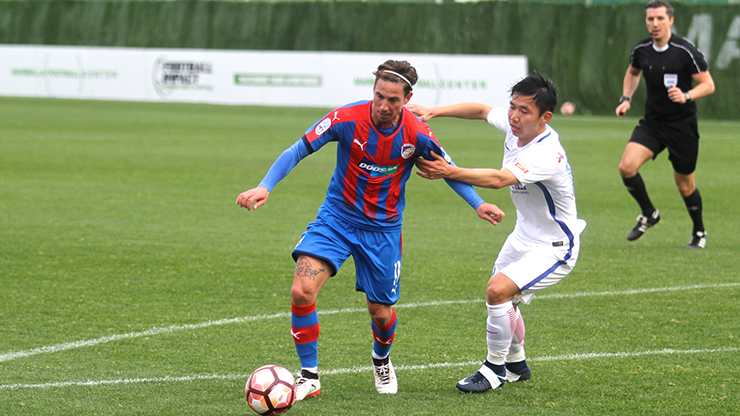 Viktoria played the last match in Spain and lost to Shanghai 1-5
​The last Viktoria´s match in Spain was played on Wednesday against Shanghai Greenland Shenhua. They quickly got in leading 1-0, however, in the 2nd half-time their opponent set the pace of the match.
On 8 minutes the fans could see the first offensive action of the match. Jan Kopic received the ball in the midfield and face to face to the goalkeeper Shuai he failed. Viktoria´s pressure continued and Patrik Hrošovský and Aleš Čermák appeared in promising scoring chances but both missed the target. On 26 minutes Shanghai threatened the gate when Aleš Hruška had to save Li Peng´s attempt and then Gia Moreno had an effort on goal after a corner. Viktoria´s goalkeeper performed excellently. Several minutes later Viktoria were leading. Michael Krmenčík opened the score after Jan Kopic and Aleš Čermák cooperated. A few minutes later Plzeň could lead by two goals but Kopic´s attempt was rebounded off the gate by Li Shuai. Nothing significant happened until the end of the 1st half.
Pavel Vrba replaced 5 players to the 2nd half. The Chinese team were successful in attacking Viktoria´s gate and Martins was fouled in the penalty area. Gio Moreno safely scored – 1-1. The forward had a chance to score moments later as well but this time Hruška stopped him. On 64 minutes the coach Vrba substituted two more players on the pitch and the goalkeeper Sváček was also given a chance to play. Unfortunately, he quickly conceded a goal by Gio Moreno. Moments later Obafemi Martins scored, too, so Shanghai were leading by 2 goals – 3-1. The Chinese team promptly added two more goals by Sun Shi Lin and Gio Moreno finished his hattrick. Martin Zeman and Tomáš Chorý tried to reduce the score but they failed in the final phase.
Viktoria conceded 5 goals for the second time and lost to Shanghai 1-5.
FC Viktoria Plzeň - Šanghaj Šen-chua 1:5 (1:0)
Midseason, Wed 24th Jan 2018, 16:00, Marbella Football Center
Plzeň: Hruška (64. Sváček) – Řezník (46. Havel), Hubník (C) (72. Živulič), Hájek (72. Piroch), Limberský (72. Kovařík) – Hořava (46. Kolář), Hrošovský (64. Ivanschitz) – Petržela (46. Pilař), Čermák (64. Bakoš), Kopic (46. Zeman) – Krmenčík (46. Chorý).
Šanghaj: Li Shuai – Martins, Moreno (C), Li Jian Bin, Qin Sheng, Romero, Wang Lin, Cao yun Ding, Li yun Qiu, Li Peng, Guarín.
Goals: 35. Krmenčík – 49. Moreno (pen.), 65. Moreno, 68. Martins, 71. Sun Shi Lin, 73. Moreno.
Fotogalerie
Related articles