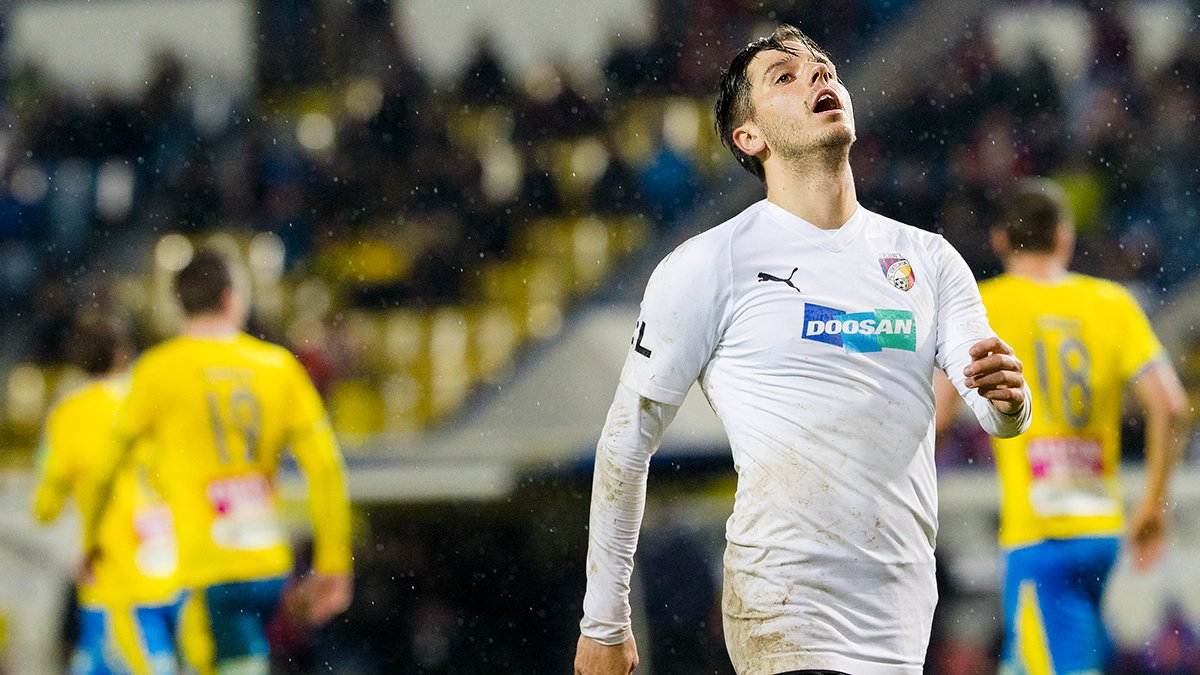 High activity was not enough to seize points in Teplice as Viktoria falls 2-1
Pavel Vrba made several changes in the starting line-up before the match against Teplice. Hořava replaced Procházka in midfield while Petržela appeared in starting XI for the first time in 2019. The hosts started better and took a 2-0 lead in first half. Hrošovský scored pulled one down for Viktoria Plzeň but they could not turn the score on their side in spite of having 22 attempts on goal.
25th round, Fri 15th March 2019, 18:00, AGC Arena Na Stínadlech
Teplice: Grigar – Vondrášek, Jeřábek, Shejbal, Hyčka – Soungole (66. Hošek), Trubač (66. Žitný) – Hora (C), Moulis (82. Čmovš) – Kuchta, Jindráček.
Plzeň: Hruška – Havel, Hubník, Pernica, Limberský – Hořava, Hrošovský – Pačinda (58. Beauguel), Čermák, Petržela (82. Kayamba) – Chorý (58. Bakoš).
Goals: 5. Hora, 31. Moulis – 62. Hrošovský, YC: Shejbal, Žitný, Grigar – Limberský, Chorý, Hubník, Bakoš, Referees: Hrubeš – Myška, Flimmel.
Attendance: 3,138.
The home team could take an advantage of Viktoria's bad start of the match and scored a quick goal. Moulis crossed the ball behind the defensive line and found a former Viktorian Jakub Hora who sliding kicked the ball under Hruška's crossbar.
The conceded goal seemed to help Vrba's team to catch the pace of the match. They tried hard to equalize and produced several good chances. Pačinda slightly missed from a free kick, Chorý's attempt was rebounded off by the goalkeeper Grigar as well as interesting Petržela's shot or Hořava's effort from almost ideal position moments later.
The home team could link to the failed chances of Viktoria and added their second goal. They quickly combined near a side line and Moulis shot on goal from inside the box. Teplice's footballer was accurated and increased his team's leading to 2-0. Immediately after that Petržela failed in a total chance on the other side.
Patrik Hrošovský could reduce Teplice's margin about 60 minutes into the game when he passed a nice technical shot above Grigar from the edge of the box. Viktoria boosted afterwards and they rushed in another offensive chances after a double subsitution. However, Bakoš missed the target from a sharp angle as well as when heading the ball later. Hořava's inaccurate shot flew to Beauguel but even him was not able to net the ball.
Viktoria were not lucky in Teplice. Vrba's team could gather over 10 shots on goal and several more chances but their bad luck was sealed by the last chance in the 6th minute of stoppage time when Havel rebounded the ball right to Grigar's hand in the box.
Pavel Vrba's Commentary
"The main cause of today's loss was the difference between the two halves. Our performance in the first one was not as we planned and our game was not enough to surprise Teplice. So they opened the match by a goal," the coach realizes.
"In the second half we failed in scoring from the chances we created. Our game had more straight actions and I think we were productive enough. However, the result is very bad for us and it's only our fault,"Vrba does not hide behind words.
Fotogalerie
More articles from this category Novinky