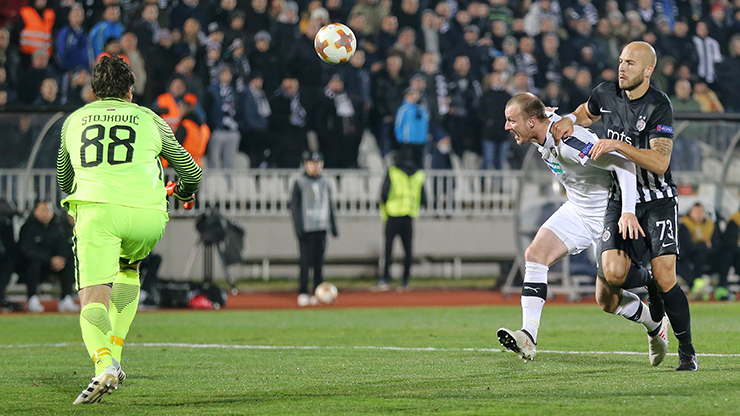 Viktorians bring a tie from Belgrade
​On Thursday 15th February Viktoria Plzeň started their spring Europa League journey of the 2017/18 season. The first opponent they met was FK Partizan Belgrade when they played the play-off match at their opponent´s stadium. Plzeň used an expected starting line-up with Krmenčík as a forward and Kopic with Petržela as midfielders. Hruška was the goalkeeper of this match.
At the beginning of the match both teams made plenty of inaccuracies so the fans could see many lost balls in the midfield as well as near the penalty areas. Both teams started to be more dangerous on about 20 minutes. At first Krmenčík was stopped by being off-side and on the other side Pantić with Soumah combined well in front of the gate. However, Hruška was ready and saved their attempt. On 25 minutes Soumah had an effort on goal but the goalkeeper kicked the ball off the goal. Viktorians attempted to threaten the goal expecially after fast breaks. Nevertheless, the half-time result was goalless.
The 2nd half continued in the same pace as the first one. None of the teams wanted to offer their opponent an opportunity to make mistakes. On 58 minutes the home team shined over Viktoria when the ball rushed in front of the gate from the right side and Leandre Tawamba headed it behind the goal line. 2 minutes later Milan Petržela was substituted by Martin Zeman. On 68 minutes Kopic centred the ball towards the gate and then after a corner Hubník missed the target. On 75 minutes Limberský had an effort on goal but he also failed in scoring. It changed on 81 minutes when Martin Zeman returned the ball to Michael Krmenčík to a back upright and Radim Řezník headed the ball behind the goalkeeper – 1-1! Plzeň finished the match against 10 men because Mitrović was shown the second yellow card.
Viktorians bring 1-1 tie from Serbia, which is a promising reslut for the rematch.
FK Partizan - FC Viktoria Plzeň 1:1 (0:0)
R32, Thu 15th Feb 2018, 21:05, Stadium Partizana
Partizan: Stojković – Vulićević (C), Miletić, Mitrović, Urošević – Janković, Pantić, Jevtović, Tošić – Soumah (71. Ivanović), Tawamba (90+1. Marković).
Plzeň: Hruška – Řezník, Hejda, Hubník (C), Limberský – Hořava, Hrošovský – Petržela (60. Zeman), Kolář (78. Čermák), Kopic – Krmenčík (90+1. Chorý).
Goals: 58. Tawamba – 81. Řezník, YC: Mitrović – Hrošovský, RC: 85. Mitrović, Referees: Sidiropoulos – Kostaras, Dimitriadis (all Greece).
Crowd: 21568.
Fotogalerie
Related articles