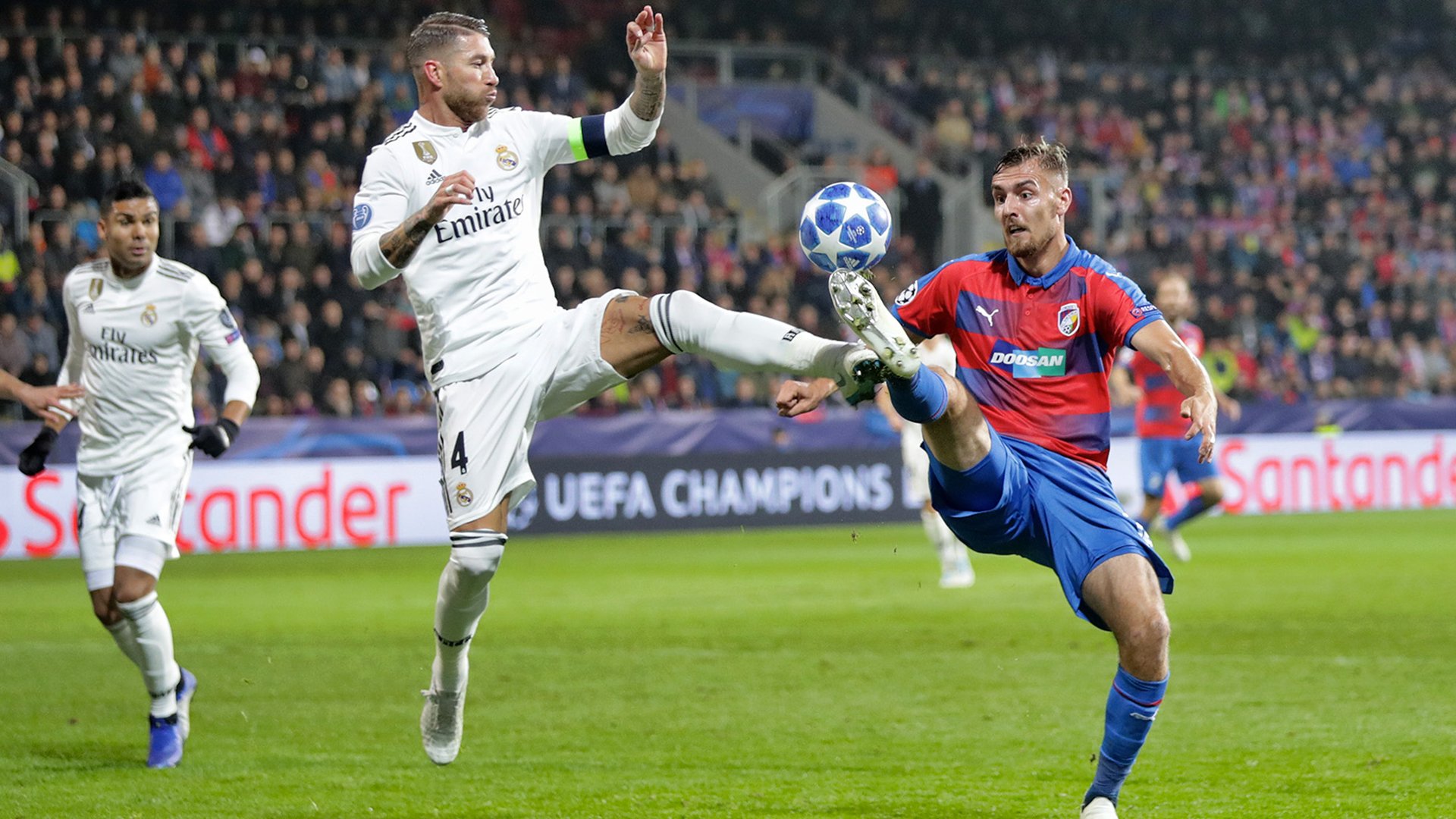 Real Madrid romped to a 5-0 victory against Viktoria Plzeň
In comparison with the match in Madrid head coach Pavel Vrba changed only two names in starting line-up. Injured Krmenčík was replaced by Tomáš Chorý and Milan Petržela was susbtituted by Jan Kopic as a left wing. The visitors dominated from the kick-off and in the end of the first half their were four goals ahead. Viktorians had some weaker chances after break, however, Kroos's late goal finally set the scoresheet to 5-0 for the current UCL champion.
4th round, Wed 7th Nov 2018, 21:00, Doosan Arena
Plzeň: Hruška – Řezník, Hejda, Hubník (C), Limberský – Procházka, Hrošovský – Havel (38. Petržela), Čermák (61. Hořava), Kopic – Chorý (80. Řezníček).
Real Madrid: Courtois – Odriozola, Ramos (C) (59. Javier Sánchez), Nacho, Reguilón – Kroos (73. Isco), Casemiro, Ceballos – Lucas Vázquez, Benzema (62. Vinícius Júnior), Bale.
Goals: 21. Benzema, 23. Casemiro, 37. Benzema, 40. Bale, YC: Nacho, Referees: Aytekin – Beitinger, Foltyn (all Germany).
Attendance: 11 483.
Viktorians had a bright start and after several minutes they were close to opening the score. Patrik Hrošovský crossed the ball in the box from left side and he nearly netted it with the help of Nacho's tap – Madrid was saved by a crossbar. Soon after that Tomáš Chorý tackled in the box but the referee Aytekin decided to let the game flow.
Unfortunately for the hosts Real stunned later twice in a row. First, in the 21st minute Karim Benzema broke the deadlock and he performed his shooting instinct. Two minutes later Casemiro's header increased the score after accurate Kroos's pass from a corner.
Soon before the break Balea and Benzema won aerial duels, they smoothly combined and Benzema scored behind Hruška – 0-3. It only took three minutes and the visitors had a successful effort on goal for the fourth times. Gareth Bale waited for a bouncing ball in the box and his left foot fired it to the back upright.
After break Kopic counterattacked and his shot was not bad at all. Courtois was busy with saving it and lucky to hit it above the top bar.
Viktorians had some chances later for example when Hrošovský used Real's mistake in combination and shot but his attempt went off the goal. Toni Kroos on the other side was more prudent when kicking a precise lob over the goalkeeper Hruška. About 15 minutes into the end of the match Kopic passed a crossed ball in the box but Petržela couldn't get it nor shoot.
Real Madrid proved their huge quality and sailed to victory 5-0.
Tomáš Chorý's Commentary
"I'm very disappointed, we as a team failed. We didn't defend what decides matches – free-kicks and corners, I'm so sorry," he was sad after the match. "To concede such goals is such a shame. Real Madrid is simply a top team that used our errors and punished them," he added. "Before the match I might have told myself I'd play against star players such as Ramos, Casemiro, Nacho...But on the pitch you only focus on your performance," he described. "I'd like to thank our fans, they were amazing from 1st to 90th minute and gave us fantastic vocal support, which I appreciate a lot," he closed.
More articles from this category Novinky