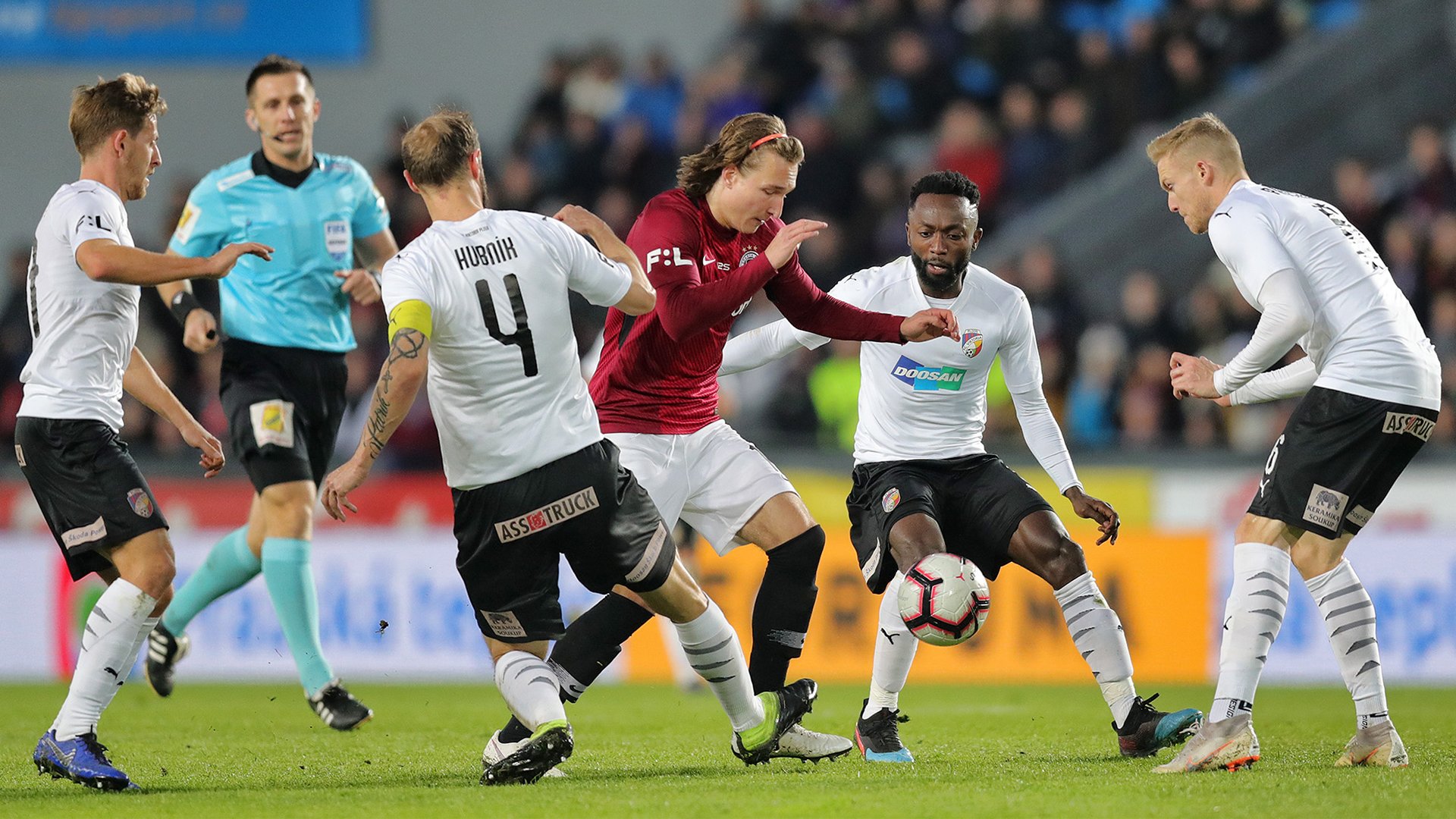 Viktoria suffered the first spring league loss at Letná stadium
Viktoria played the hit match of FORTUNA:LEAGUE round against Sparta at Letná. Radim Řezník returned to Pavel Vrba's starting line-up after a long injury, Erik Pačinda played from the first minute for the first time and Tomáš Chorý appeared in offensive line.
24th round, Sat 9th March 2019, 17:30, GENERALI Arena
Sparta: Nita – Chipciu, Štetina, Costa, Hanousek – Sáček, Kanga (90+4. Kadlec), Frýdek, Dočkal, Hložek (81. Moberg Karlsson) – Tetteh (69. Pulkrab).
Plzeň: Hruška – Řezník (13. Havel), Hubník, Pernica, Limberský – Procházka, Hrošovský – Kayamba (59. Hořava), Pačinda, Kovařík – Chorý (73. Beauguel).
Goals: 10. Hložek, 29. Kanga (pen.), 68. Sáček, 90+10. Pulkrab, YC: Kanga, Kadlec – Kovařík, Chorý, 2nd YC=RC: 90+3. Kovařík, Referees: Pechanec – Pospíšil, Dobrovolný.
Attendance: 16,110.
Viktorians noticed the opening chance of the match in the 4th minute. Roman Hubník perfectly passed the ball to Radim Řezník who dropped it to free Kayamba. The midfielder dribbled through the defence but his shot from behind the box flew off the goal. On the other side Sparta rejoiced after their first chance. Guélor Kanga crossed an accurate ball to Adam Hložek and the home arena burst out of joy, 1-0.
Tomáš Chorý attempted to response quickly but he missed the target. Another chance of Viktoria was even more interesting. Luděk Pernica passed to Erik Pačinda who prolonged the game to Kovařík. He, being on the left side, found Joel Kayamba but neither this time the midfielder shot on goal.
Sparta took advantage of Viktoria's incaccurate game. Pačinda fouled on Sáček in the box and the penalty kick was scored by Guélor Kanga. Sparta could increase their margin afterwards, however, Hložek's long-distance shot was rebounded off the goal by Hruška. The half-time score was 2-0.
Aleš Hruška performed an excellent save at the beginning of the second half when destroying Tetteh's shot on goal.Hložek had an effort on goal moments later but this time he shot into the crossbar.
60 minutes into the game Viktoria had a great chance to reduce the score. Pačinda found free Hořava but the midfielder did not touch the ball as he planned. So after that Sparta increased their leading again. Hanousek crossed the ball to Sáček who scored.
Although Sparta's margin was three goals, later the situation was even worse. After a corner by Bořek Dočkal Costa headed to upright but in the stoppage time Matěj Pulkrab sealed Sparta's victory to 4-0.
Pavel Vrba's Commentary
"The match was very bad from our side, it was influenced by a quick goal we conceded in the 10th minute," Vrba knew. "Sparta took advantage of that, they were better and more active. We couldn't be stronger in the offensive phase and threaten the goal. They deserved to win with the margin they finally reached," he admitted.
Fotogalerie
More articles from this category Novinky