They should represent speed. Power of lightning. Energy by which Viktorians are boosted. Brand new kits of Viktoria Plzeň for 2019/2020 season are here!
Boosted by new energy. This is the new slogan that characterizes the new Viktoria's kits.
Club colours, red and blue, stay as the base. The main motive of the new kit is an energetic symbol of lightning that depicts energy, power, speed, strike. This is what Viktoria want to be in a new season.
In comparison with the last season's model the jersey returns to classic V-neck, which is a version preferred by most players. "I really like the jersey, it's full of energy, lively. And of course, it's very comfortable and I feel good in it," Viktoria's skipper Roman Hubník says. He had a chance to watch the kits' development and he, together with Lukáš Kalvach, Michael Krmenčík and Ondřej Mihálik, became a face for introducing the collection.
The two new faces Mihálik and Kalvach represent new energy in Viktoria's team. Michael Krmenčík is also boosted by new energy because he comes back after a long-time recovery and nowadays he wants to be a leading man of the team. And of course, Roman Hubník, a fighter who does not miss any tackle on the pitch! "The kit is great. We feel very comfortable in it. And now we have to transform the energy onto the pitch," Lukáš Kalvach knows and he cannot wait for the opening match of the 2019/2020 season, which is planned on 13th July when Viktoria will welcome Olomouc at the Doosan Arena.
"The new kits of FC Viktoria Plzeň with a flash of light is a perfect motivation for the team for the new season. We wish Viktoria many great matches in season 2019/2020," Štěpán Reinberger, Manager Sales Teamsport and B2B CZ/SK in company PUMA, closes. PUMA are official contractor of Viktoria and also this year they used the most up-to-date technologies in order for the players to feel comfortably.
And what does the second and third version of kits look like?
By the second version Viktoria stay with favourite white colour. The third, as traditionally, is again innovative, surprising and totally different from previous seasons. After green and orange Viktoria will introduce themselves in neon yellow complemented by the shorts in the same colour and black soccer socks.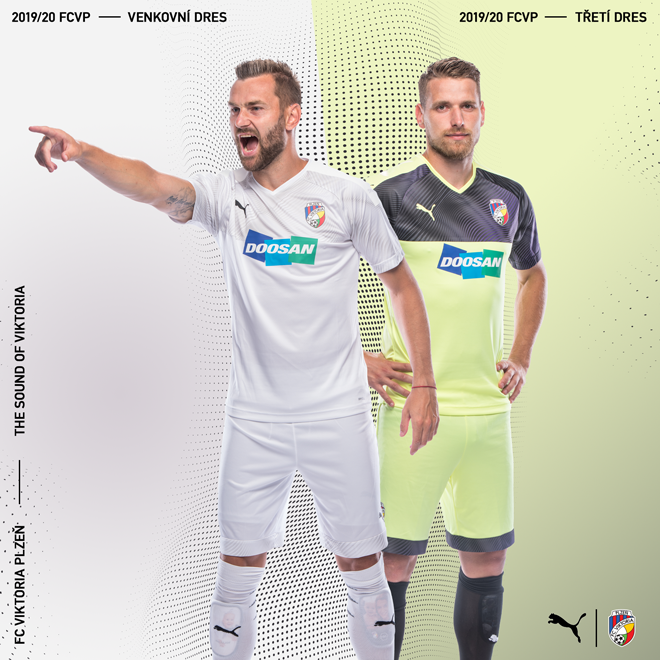 Viktorians, you can buy the new kits right now in Viktoria shop or in our e-shop where we also prepared a configurator for you!