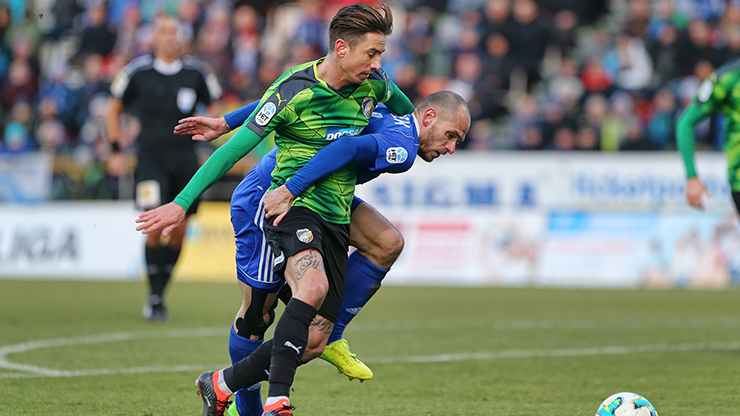 ​Viktoria gained a valuable point on a hot lawn in Olomouc
Viktoria Plzeň opened the spring part of the season against Olomouc. In comparison with the starting line-up against Belgrade the coach Vrba made two changes – Matúš Kozáčik was the goalkeeper of this match and Jan Kovařík replaced David Limberský on the left side in defence.
Sigma entered the match very actively. The home team had several free kicks right at the beginning of the match, they were dangerous but the final phase was not successful. On 28 minutes Kozáčik had to be ready when the ball was rebounded to Jiří Texl but he finally missed the target. Viktorians performed a promising action on about 30 minutes of the game when Hejda, Řezník and Kolář cooperated but Kolář´s attempt was blocked to the corner. On 37 minutes Houska rushed with the only shot on goal but Kozáčik stoped his effort. There were minimum of bigger chances on goal and the half-time result was goalless.
The 2nd half started as the 1st one. Olomouc tried to attack their opponent but they lacked shooting accuracy. On about 60 minutes of the game Buchta first touched the ball. Kopic beat his man on the left side and passed the ball to Michael Krmenčík. The 24-years-old forward failed in scoring. On 69 minutes Viktorians had the biggest chance of the match. Jan Kopic stole the ball to the defender and crossed it to Michael Krmenčík who sent the ball above the crossbar. Tomáš Chorý experienced his premiere when he substituted Krmenčík. On 80 minutes Daniel Kolář shot from the long distance and Buchta rebounded his shot off the goal. The home player Moulis and the visiting Hrošovský both had an effort on goal but both missed.
Plzeň tied with Olomouc 0-0.
SK Sigma Olomouc - FC Viktoria Plzeň 0:0
17th round, Sun 18th Feb 2018, 16:00, Andrův stadion
Olomouc: Buchta – Sladký, Radakovič, Jemelka, Vepřek (C) – Zahradníček (67. Moulis), Houska, Kalvach, Falta – Texl (72. Hála) – Plšek (90+3. Yunis).
Plzeň: Kozáčik – Řezník, Hejda, Hubník (C), Kovařík – Hořava, Hrošovský – Petržela (64. Zeman), Kolář (89. Čermák), Kopic – Krmenčík (75. Chorý).
YC: Sladký, Moulis – Kolář, Hrošovský, Chorý, Referees: Zelinka – Kubr, Pospíšil.
Crowd: 6867.
Fotogalerie
Related articles